The dark clouds will eventually dissipate, the darkness will eventually pass, and the light will eventually reappear (from Ancient Chinese Poetry).
2020 has been a year of changes and challenges for all sorts of industries. Under the new normal, with the change of users' lifestyle and mindset, the beauty industry has emerged new trends and hot drops. This article will first focus on the three major categories - face, lip, and eye makeup, and then take a macro view of "Generation Z", Chinese beauty brand" and other hot topics. Next, let's dive into the world of makeup in 2020.
Industry Overview
There are a lot of active Baidu users who are interested in the beauty industry, and the number of monthly active user on mobile Baidu APP alone is as high as 44 million, and user behavior shows a two-way path of active search and information flow.The average monthly feed advertising display is 18 billion times, and the average monthly search volume of cosmetics-related terms is 82 million times.。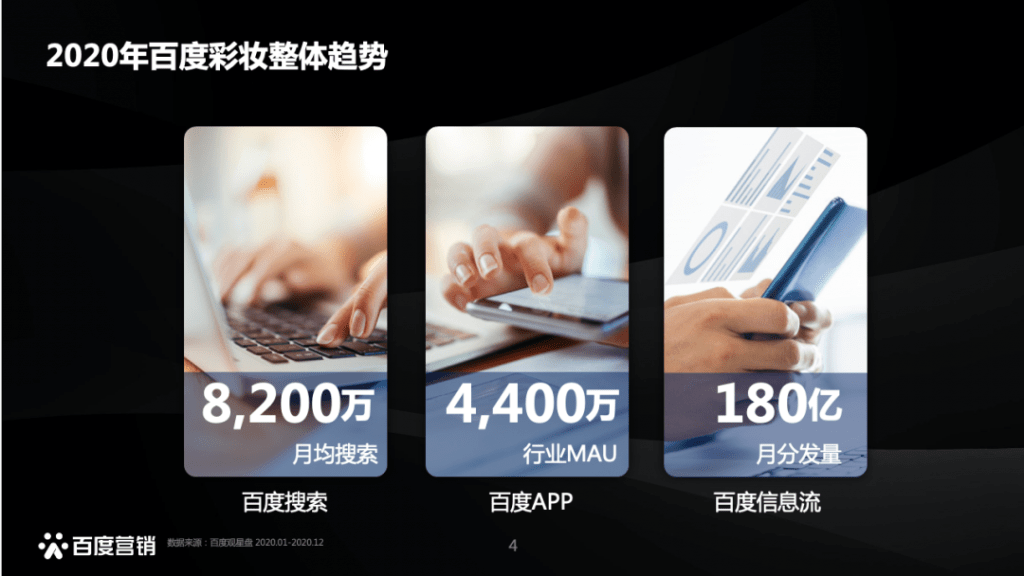 From search engine marketing perspective, average daily search reached 2.64 million times,wireless search accounted for more than 80%. Among them, Spring Festival period and summer are the peak periods of search.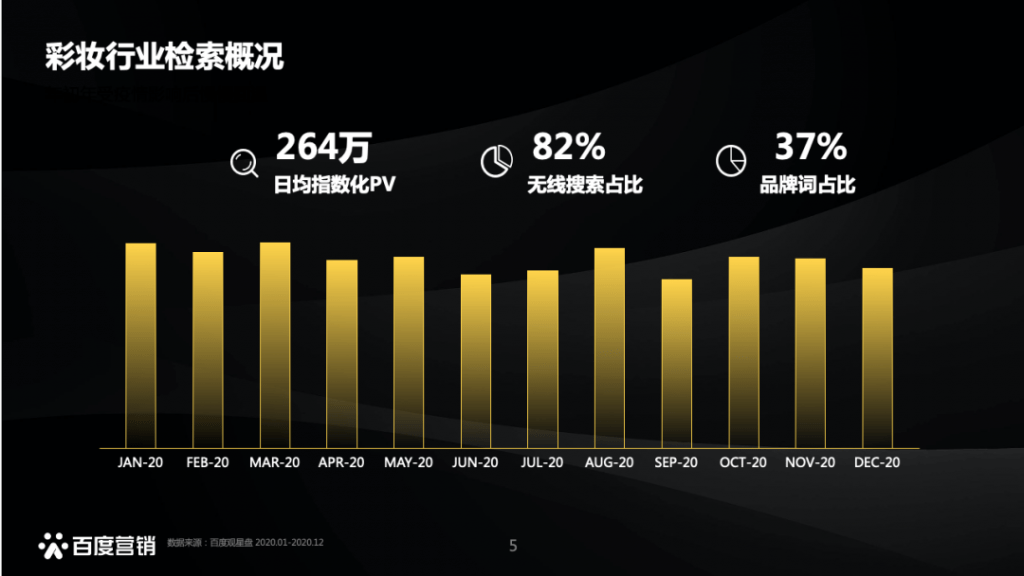 Video has become the main thing in social media, with video content accounting for 71% of the total content in 2020, up 9% since 2019.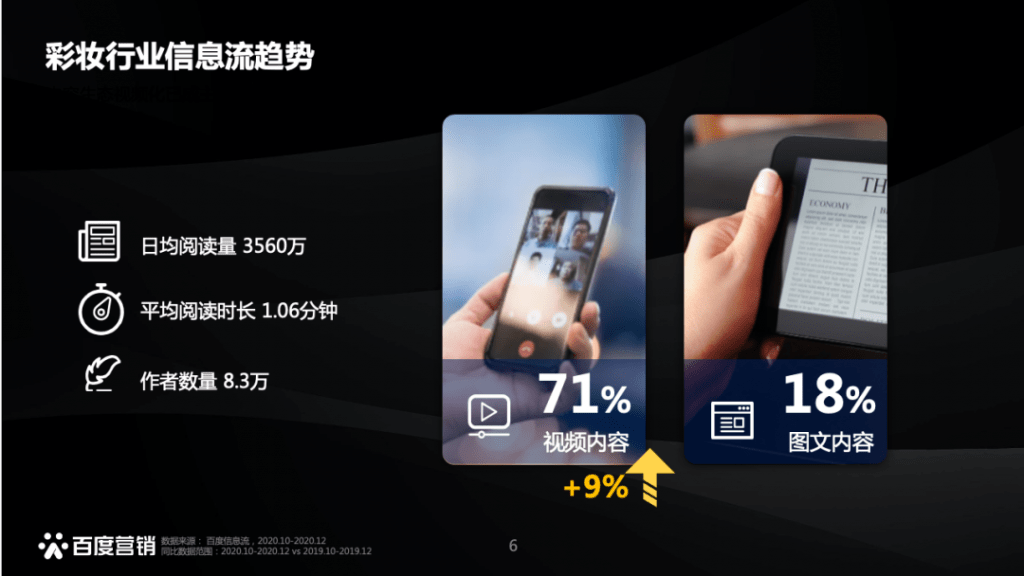 Baidu has gathered 83,000 high-quality content creators in the makeup industry, steadily outputting enriching content for users on daily basis. The average daily reading volume is over 35 million. Among them, "makeup tips" is the most popular type of articles, accounting for 26%.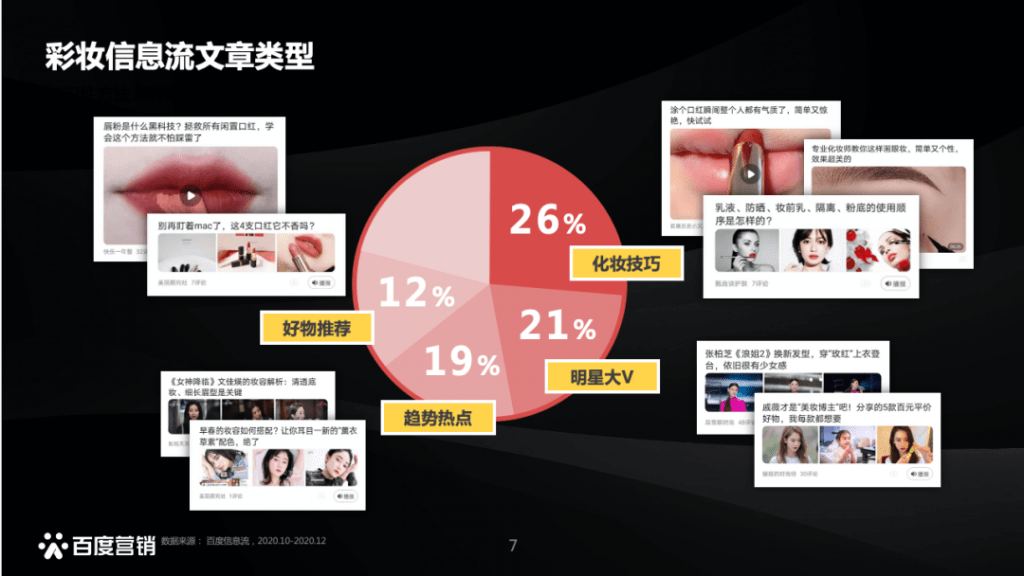 Through cluster analysis of how user search in Baidu and their reading behaviour over a period of time, we found that 14% of users searched for q specific product and then extended their reading to topics of interest by swiping the information feeds. At the same time, Baidu's information feeds AI technology inspired 26% of users to actively search for related products. Nearly half of the crowd's behavior will be more diversified, constantly switching between search and reading.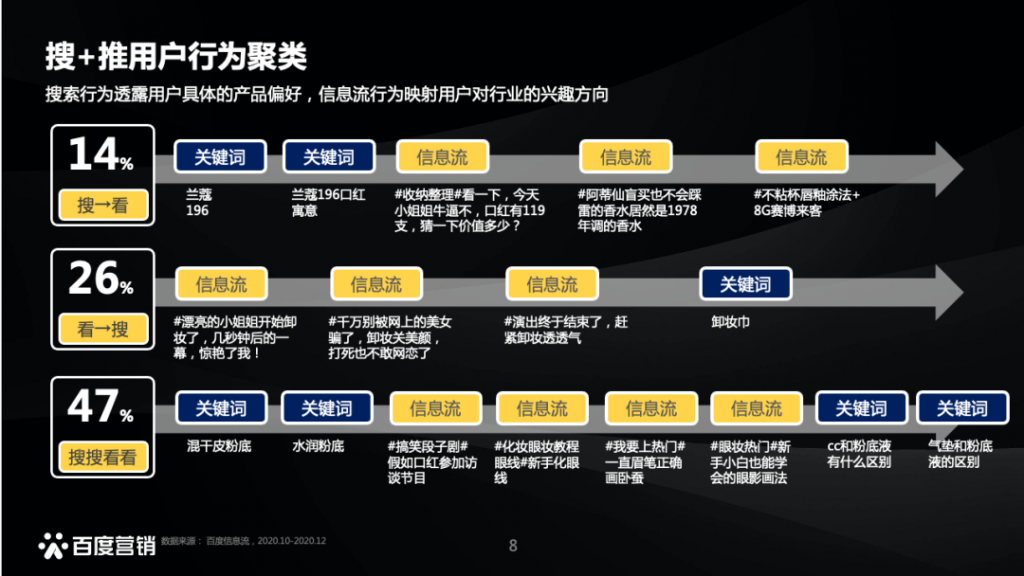 According to Baidu, users pay the most attention to face makeup, accounting for 41%, followed by lip makeup, accounting for 38%. Due to the pandemic, users' attention to lip makeup declined in 2020 as masks became mandatory, while the proportion of attention to face makeup and eye makeup increased by 2% and 1%, respectively.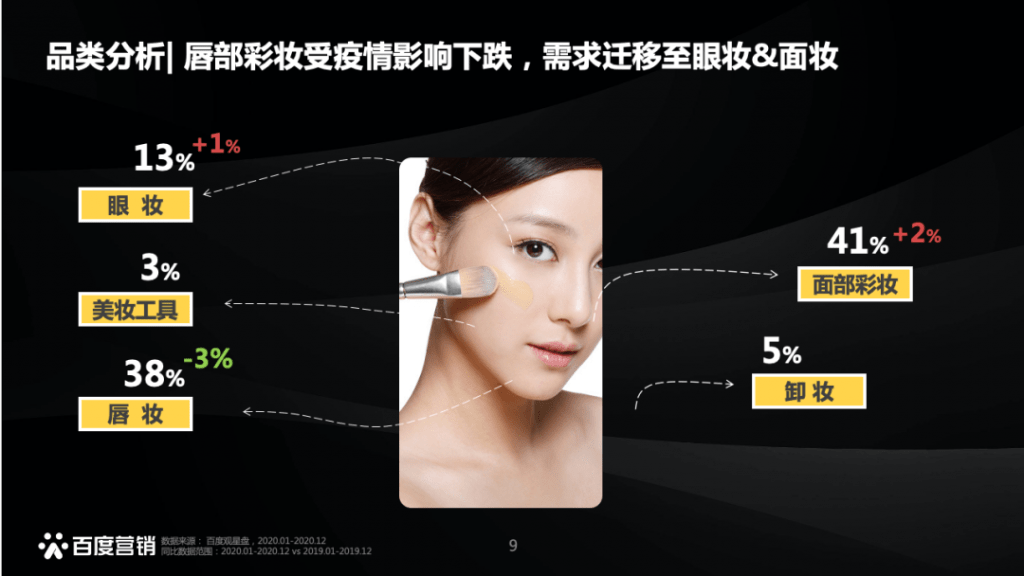 ○ Facial Makeup:
Among all subcategories of face makeup, users are most interested in foundation and base categories, with search volumes accounting for 30%, followed by loose powder and pressed powder, accounting for 18%. We saw a significant drop in attention to cushion foundations in 2020, down 10% compared to last year with users' attention to cushion foundations shifting to traditional foundation, loose powder and color products.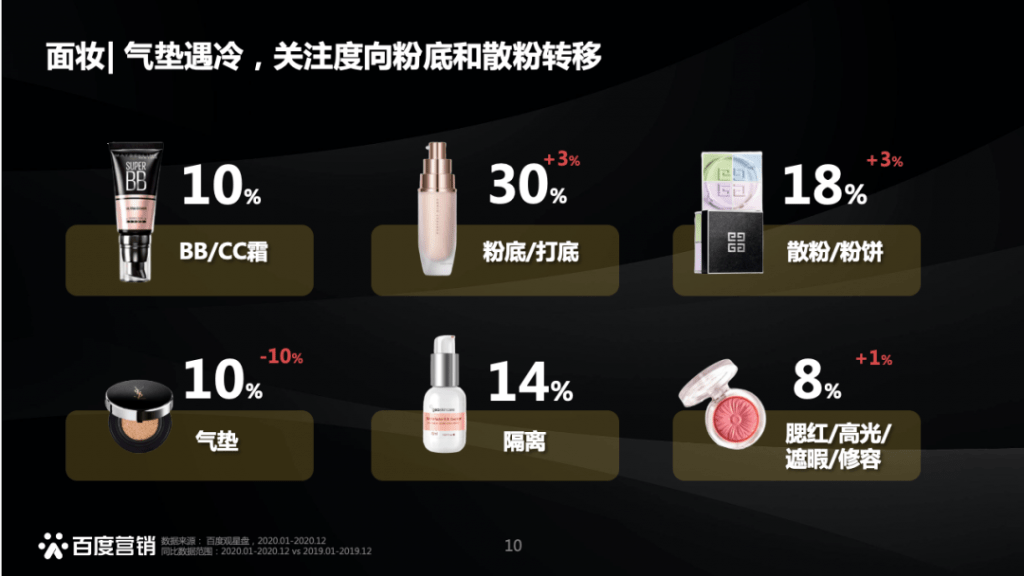 Setting Makeup:
In 2020, demand for makeup products surged as wearing masks became mandatory for most indoor places. A cluster analysis of foundation search concerns showed a 14% increase in "stay-in-place makeup" compared to last year. At the same time, the market also responded quickly with a series of new products with new sensory experience, such as antioxidant makeup setting spray and watery setting powder.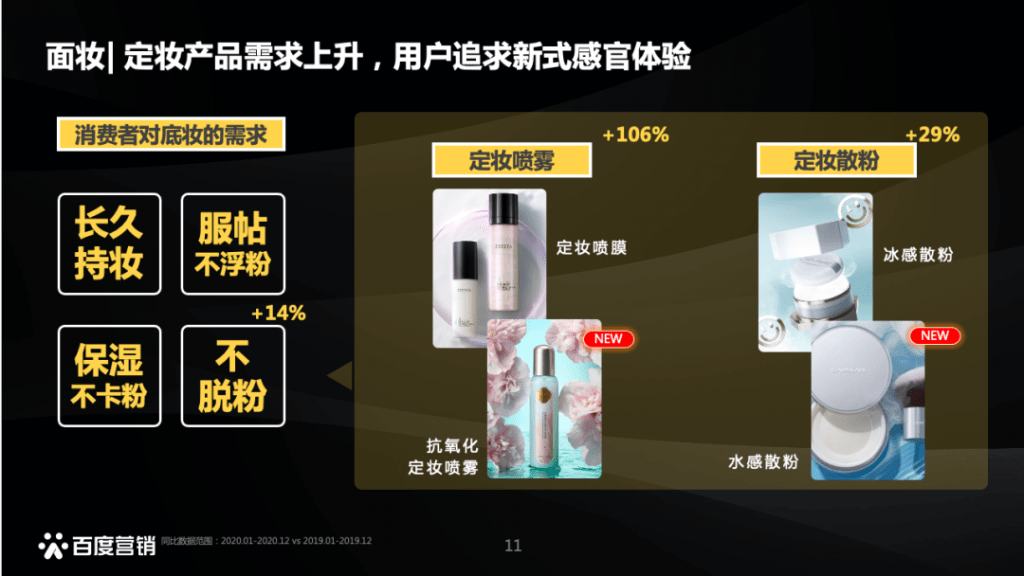 Makeup and Food
The outbreak of the pandemic has further raised people's concern about health and food safety, and this issue is also reflected in the beauty and cosmetics industry. A large number of users came to Baidu to search for keywords such as "food grade primer", and brands also seized this pain point and used food grade ingredients to endorse the safety of products. Among them, herbal ingredients, animal-derived ingredients and fruit ingredients are most popular among brands and users.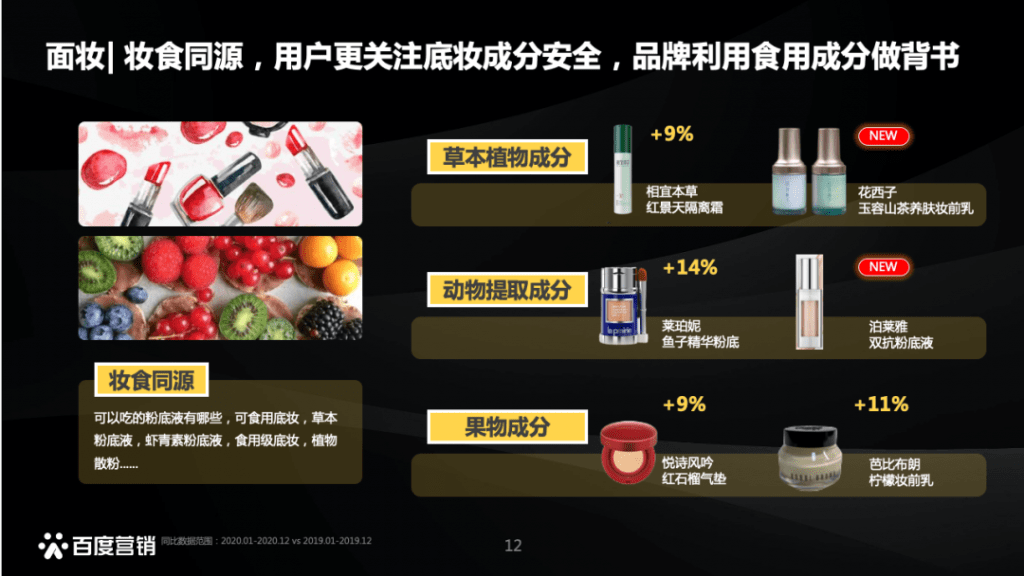 Makeup and Skincare
The trend of "Makeup that's Good for Your Skin" started in 2019 and will be further fermented in 2020. The skin nourishing effect of primer products shows a trend of segmentation with moisturizing, whitening and repairing as three main concerns. At the same time, users are starting to pay attention to the real efficacy of skin care ingredients, such as hyaluronic acid, niacinamide, astaxanthin, etc. These are popular ingredients associated with frequently-searched makeup products.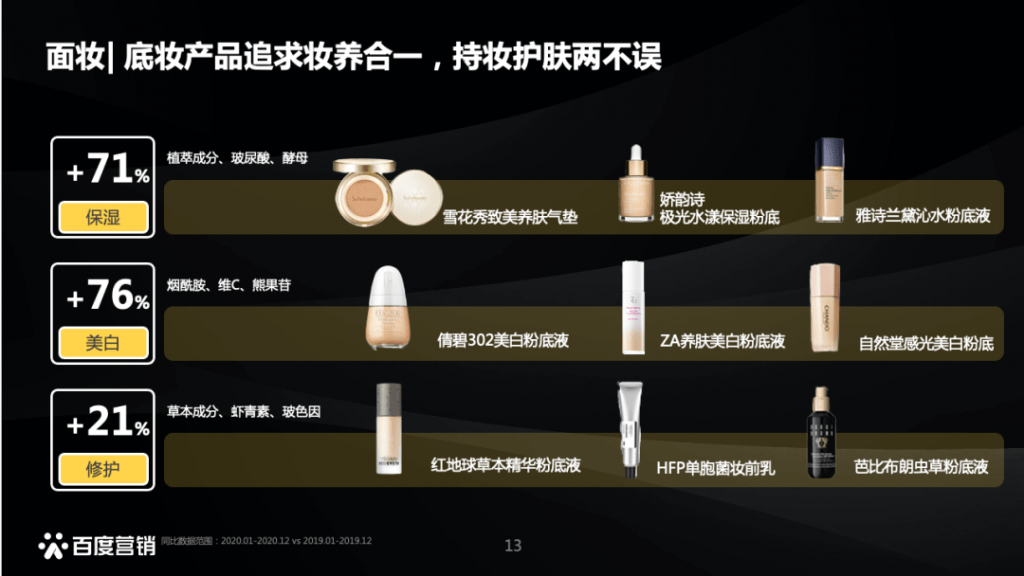 Highlighter and Contour:
The number of searches related to "Makeup Hacks to Transform Your Face", a saying given to the master makeup technique by netizens, increased nearly three times in 2020. This hot topic also boosted the number of searches for products that achieve the "Makeup that Transforms Your Face" effect. Highlighter and contour increased by 6% compared to 2019 in the face category. Popular products in the market also attracted the attention of Baidu users, with significant growth in searches compared to 2019.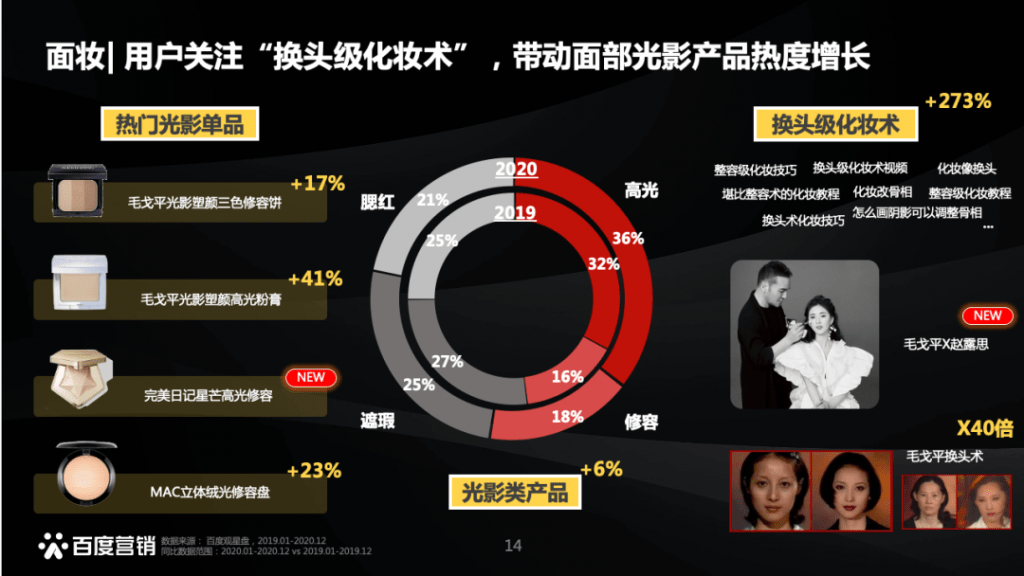 Audience Analysis:
Through analyzing users who search for face makeup questions, we find that more than half users' questions are still focused on product awareness, such as "the difference between sunscreen and primer", "how to use cushion foundations and foundation", "what is 'bare skin cream' " are all frequently-searched terms. Among them, 73% of the users are women aged 18-34, which belongs to the core group of the makeup industry. If these "foundation practitioners" are guided by effective ways, they will become makeup masters in no time. So, what is an effective way to market them? Looking into their consumer behaviour, nearly 40% of users use Baidu Zhidao to find term explanations, and 22% of them read more than one "zhidao post". Did you get the hint? :)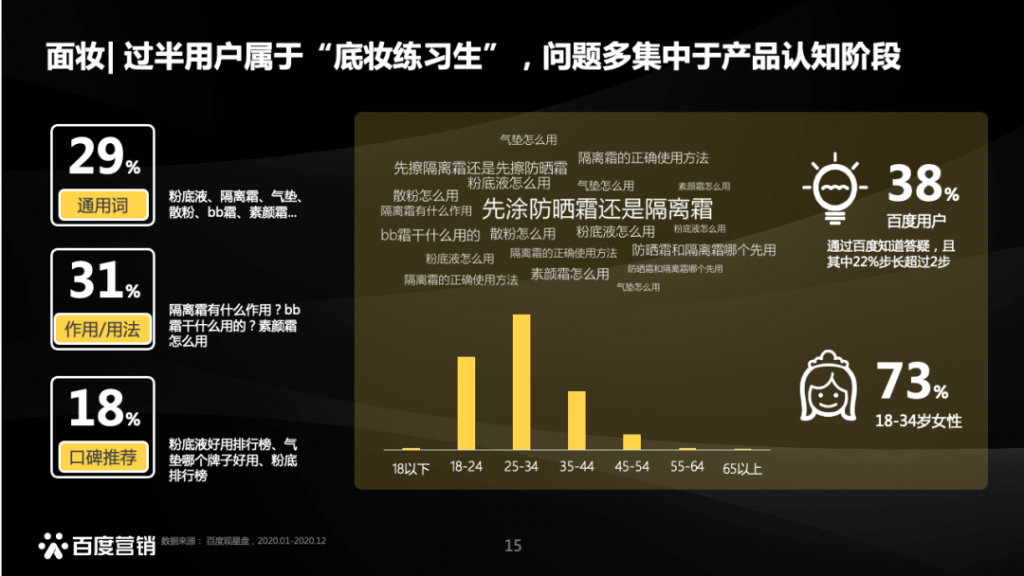 ○ Lip Makeup:
Lipstick is the undeserved main battleground of lip makeup, with nearly 90% of the searches focused on lipstick-related issues. With luxury lipsticks soared, keywords such as carving process, jelly lipstick, and creative lip brush were popular lip makeup topics that triggered users' attention.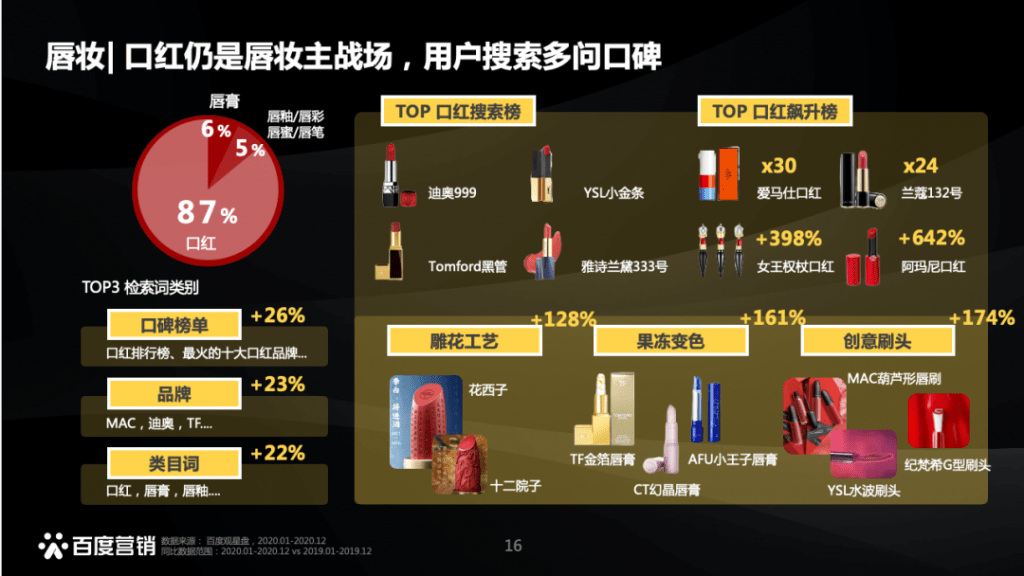 ○ Lip color:
"Which lipstick is it" is a common term that pops up on all kinds of videos or live streams recently. In 2020, "lip colour like food" has become a new trend, where abstract colors are linked with food, so that even if users cannot try the color themselves, there's room for imagination and expectation. Brands are also keenly aware of this trend and have launched lip colors in teal, fruit, and wine to respond to the market demand.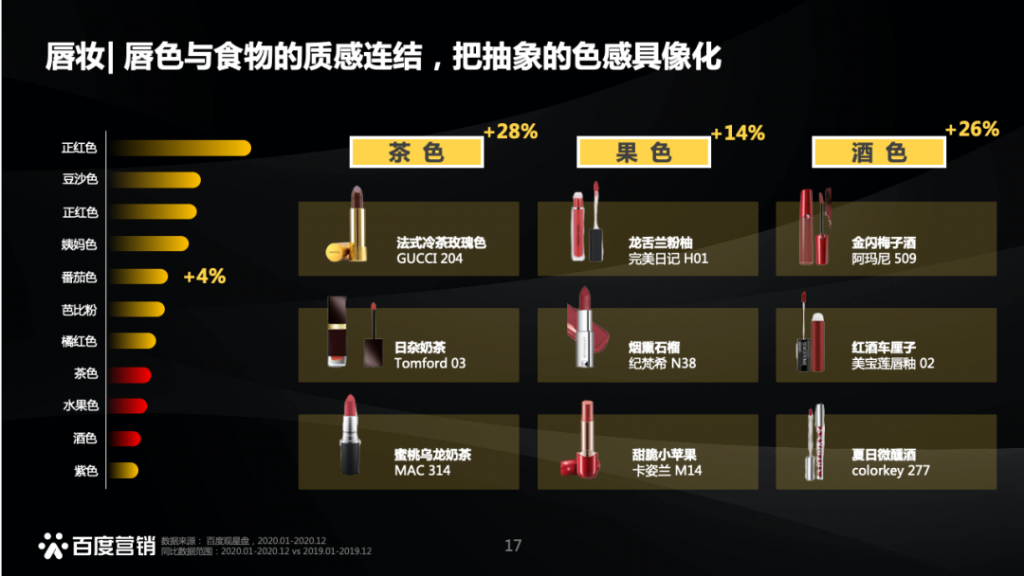 ○ Lip Care:
With more and more ladies' desire to take their makeup to the next level of sophistication, a new concept of "lip care" has emerged. Traditional lip balm can no longer meet the needs of reducing lip lines, brands have launched advanced lip essence, lotion, sunscreen lip care products and as a result are met with the tremendous attention.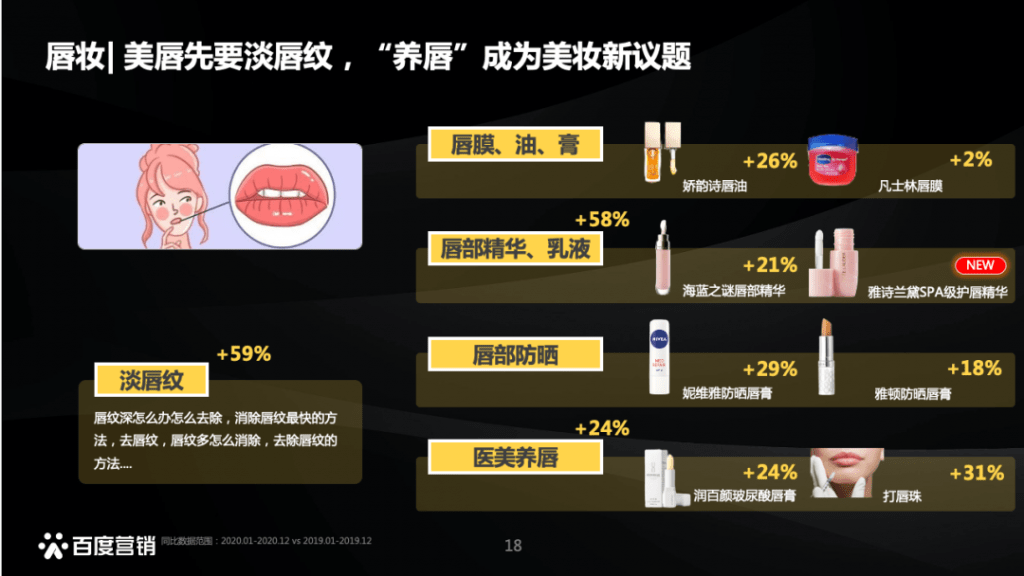 ○ Lasting Makeup:
The demand for lasting makeup is not only reflected in base makeup, but also applies to lip makeup. Users' concern about lipstick "not coming off" has increased by 37% year-on-year. At the same time, lip glaze, lip clay and lipstick raincoat products that stays in place longer are getting more popular, especially lip clay, which has great potential as a new sub-category in 2020.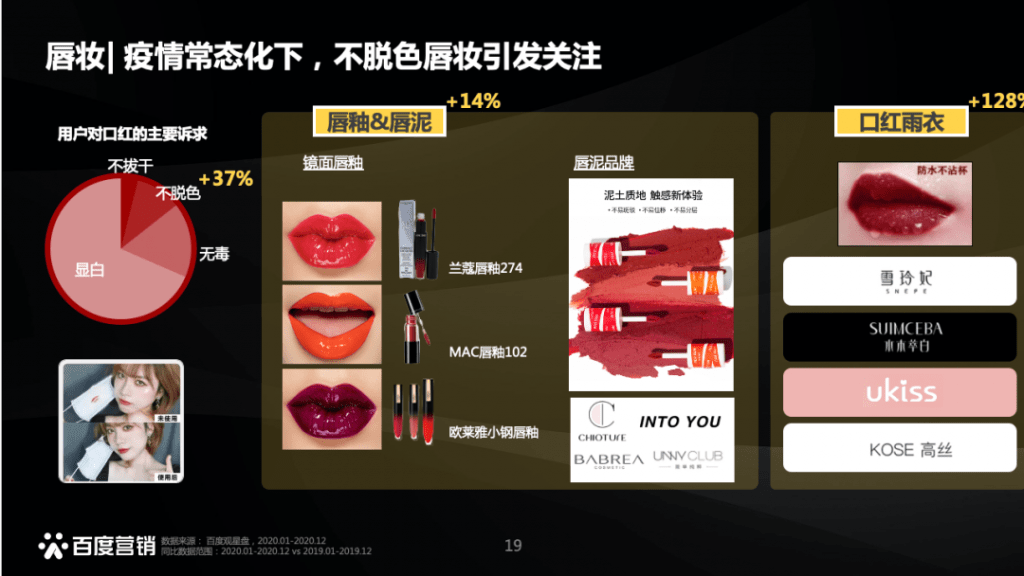 ○ Eye Makeup:
Among the subcategories of eye makeup, eye shadow received most attention, accounting for 34%, followed by eyeliner products, accounting for 28%. The trend of "refined look" has made eyelashes a new continent of interest for users, and the market has seen the emergence of eyelash-related products such as growth solutions, extensions and magnetics.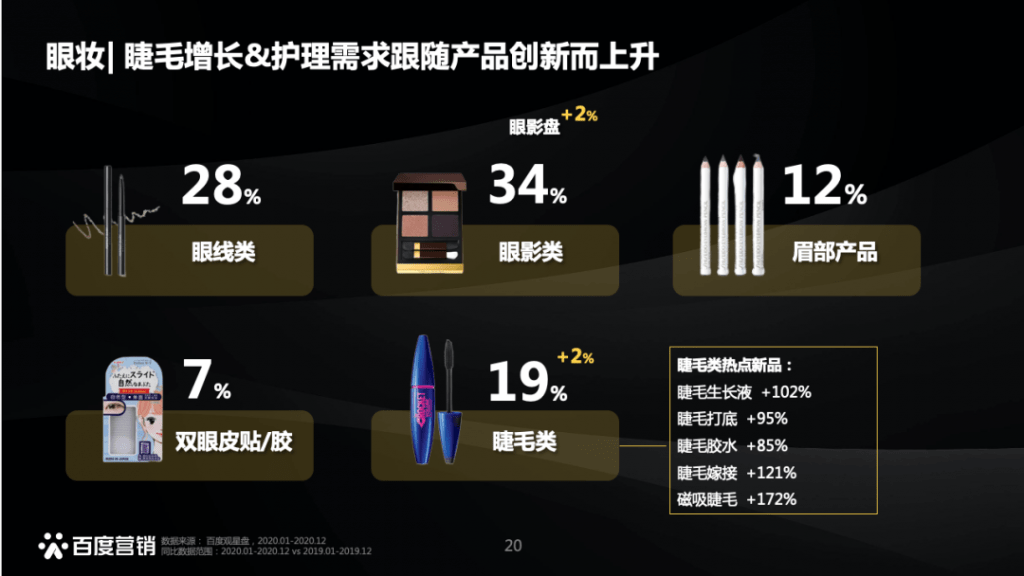 Color:
Besides mainstream earthy, red-pink and orange-grapefruit colors, makeup junkies have also created a series of personalized makeup according to popular TV series and variety shows, such as "fairy tears", "super A eye makeup" and "cyberpunk" eye makeup have gained a lot of attention from users. At the same time, the pursuit of color is not only limited to eye shadow, but also extends to other parts of the eye such as eyeliner, eyebrows, eyelashes, etc. Brands follow the pace of market demand, and related products are created and fed into the search behavior of Baidu users.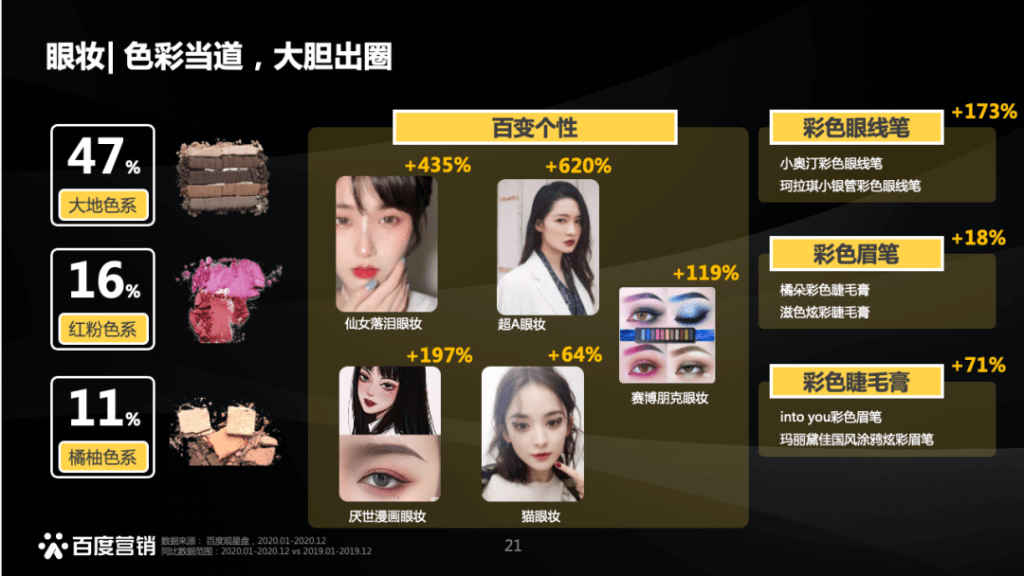 Eyeshadow Palettes:
In 2020, the search volume of eyeshadow palettes rose by 2%, which mainly came from the dizzying marketing game of major brands for eyeshadow palettes. In addition to the regular "seasonal" and "holiday" hot picks, many brands have launched "Co-branding" and "Anniversary" kits, and successfully triggered the attention of Baidu users.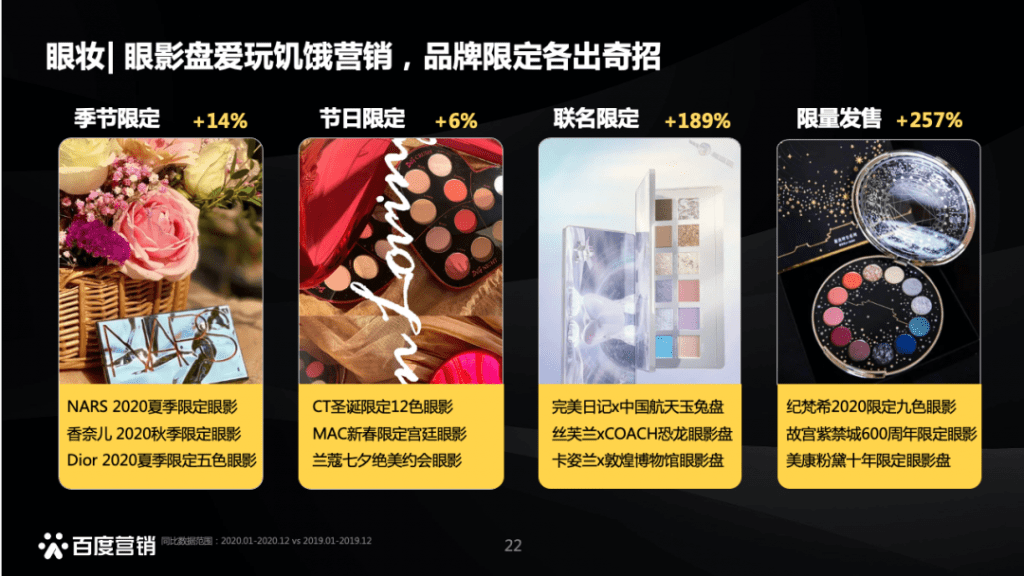 Steps:
As of eye makeup search queries, more than half focused on "how-to"s. Cluster analysis of search terms shows that there is a clear trend of advancement in the steps of eye makeup, with pupils, silhouettes, diamonds and other concerns soaring and becoming an indispensable part of eye makeup. However, at the same time, we found that 67% of the searches were still focused on the basic tutorials of eye shadow and eyeliner, which shows that makeup novices are still the main force.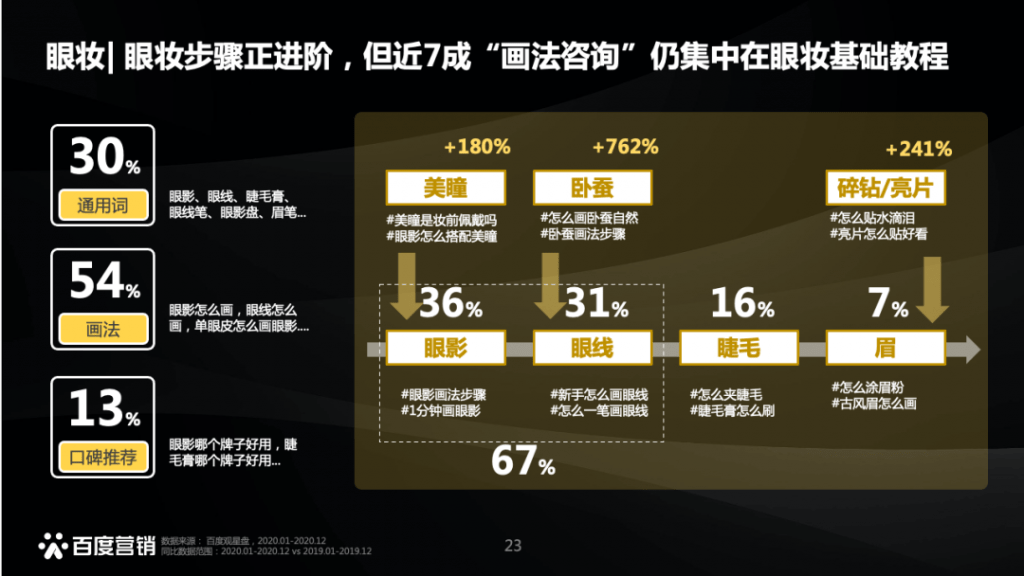 Summary:
Lip products fall due to the pandemic
Demand shift to eye & face makeup
Face Makeup
Rising demand for makeup setting products. Users seek new sensory experience.
New focus on foundation products: makeup and skincare at the same time.
High percentage of make-up beginners, search terms are mostly elementary issues.
Lip Makeup
Lipstick is still the main battlefield. Consumers trust word of mouth.
Brands are pushing food sensation lip color. Lip care is the new trend.
Lipstick that stays in place raises concerns under the pandemic.
Eye Makeup
Bold colors. More than just eyeshadows.
Eyeshadow palattes love to play hunger marketing with limited editions.
Beginners eye makeup tutorials are still in demand. Most users are beginner level.
Industry Spotlight:
Generation Z - Gift Boxes - Sets - Chinese Brands
Makeup Looks:
Popular makeup can always grasp the wind of fashion and step on the forefront of the times. With the explosion of the creation of the 101 series of talent shows, Chen Qian Qian's a red dress out of the circle, the little fairies also all kinds of their favorite celebrities and drama characters makeup perfectly replicated in their daily lives. We conducted a cluster analysis based on Baidu users' retrieval behavior and found that the four hottest makeups are tea makeup, girl group makeup, hot drama makeup and mask makeup.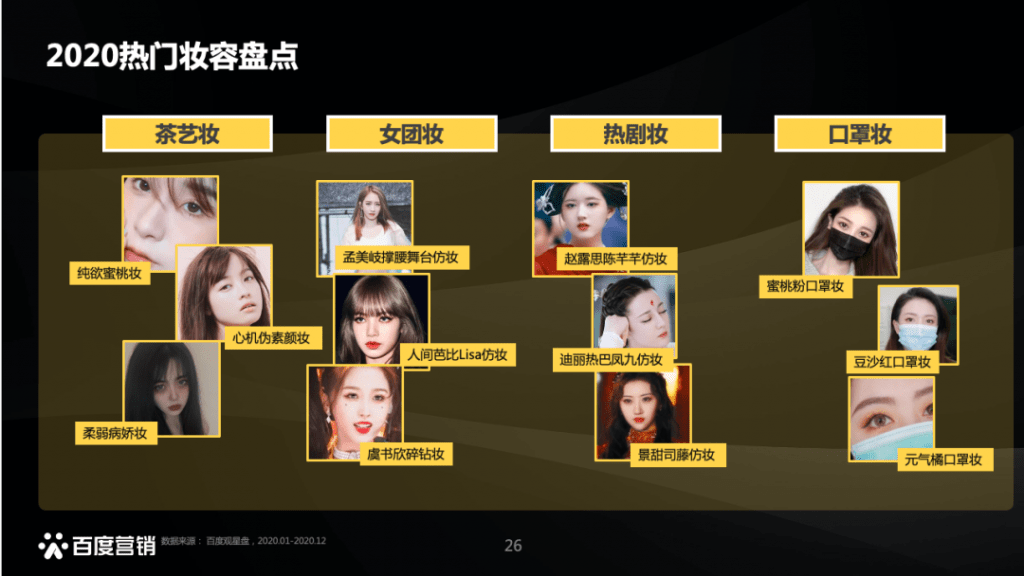 Gen-Z:
Z世代不仅是年轻的一代,更是彩妆行业的生力军。在百度上每月活跃着超过1300万的Z世代彩妆人群,其中77%是女性,近半数具有大学及以上的文化程度。通过对她们阅读的信息流文章进行深入分析,这些高知未婚的年轻小姐姐们,爱追剧,好时尚,喜欢小动物,充满了年轻一代的活力。小编不禁感慨:难有少年时,总有少年来!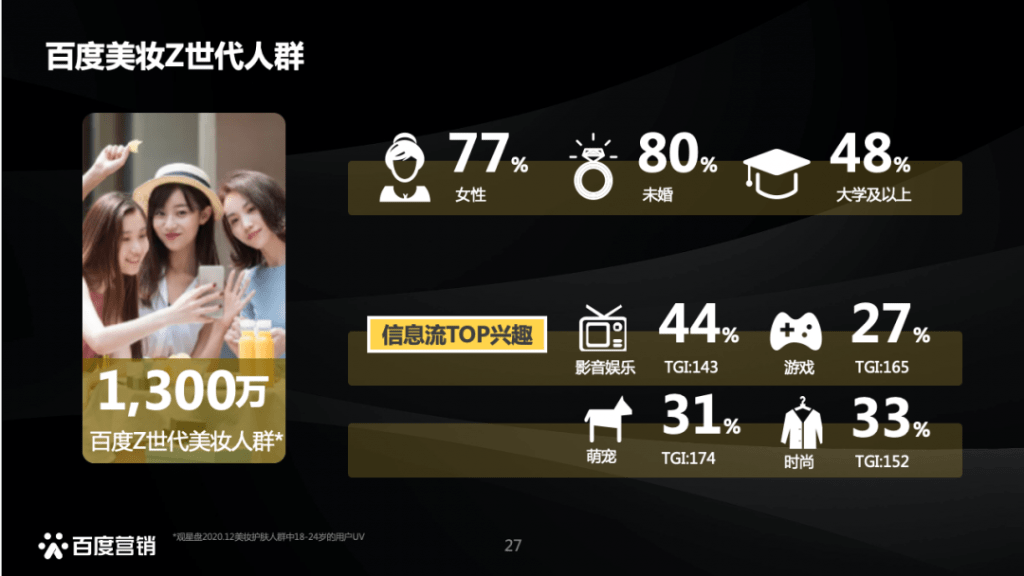 进一步分析Z世代人群在彩妆行业的行为特质,发现最为显著的一项就是:关注明星同款。这一点与上述"半数Z世代爱追剧"的发现不谋而合,"明星"果然是俘获年轻人芳心的利器呢!此外,百度悄悄记录了少男少女们的好奇心,近40%对于最新产品、品类的检索量都是Z世代人群贡献的。除了乐于尝鲜,年轻人们也是追求专业技法的"好学生",在化妆这件事上,年轻人可是颇具匠心精神呢。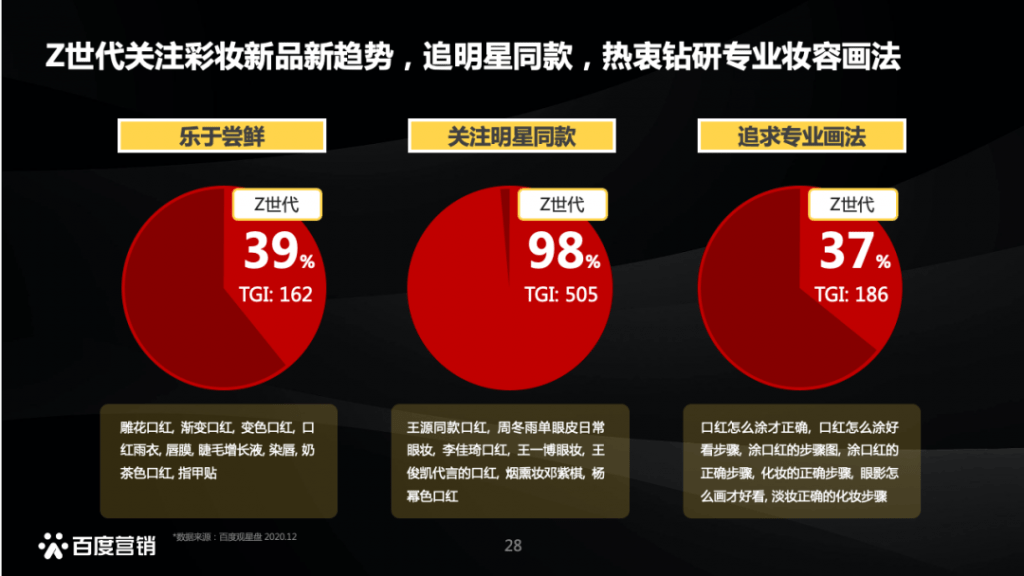 在彩妆品牌的选择上,Z世代偏好日韩系品牌,但热门的国货品牌和四季常青的国际大牌同样聚集了大量的关注度。在品类的偏好上,Z世代人群最关注眼影和散粉。色彩是年轻人张扬个性最好的方式,而尚处于"清水出芙蓉"年龄中的他们,在底妆的打造上,轻薄妆容就足够啦。值得注意的是,Z世代人群对于品牌有着较高的偏好,要做到和年轻人"看对眼"、"合胃口",是彩妆品牌营销活动不懈追求的方向。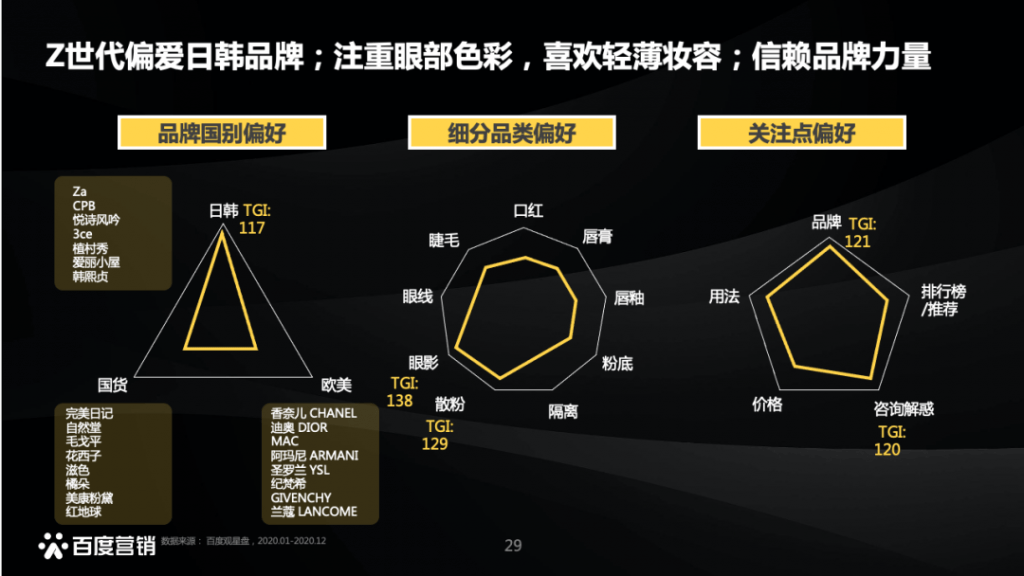 ○礼盒(Gift Box):
节日送礼,已经成为了我们日常生活中的常驻议题。在百度上,有关送礼和礼盒的检索峰值与节日显著正相关。尤其是520和圣诞,大量的男士会来百度搜索如何送礼,如何告白,让度娘为他们助攻支招。与此同时,通过人群分析,我们发现其中半数是女性,她们在节日同样会关注自己挚爱品牌的限定礼盒,专属营销活动。精致的单身贵族也会选择在这些具有仪式感的日子,壕气出手,宠爱自己。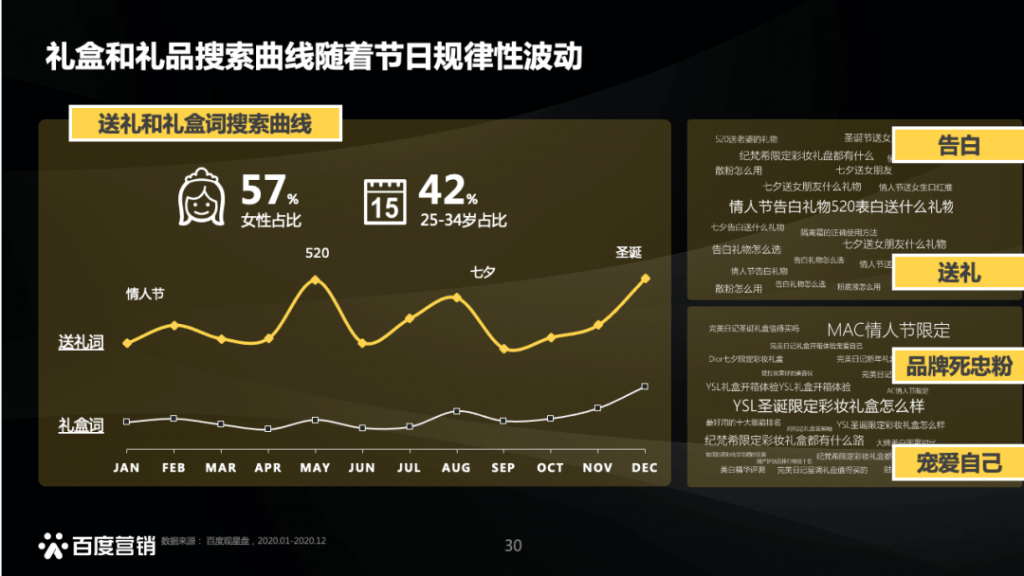 组套:
2020年,随着各大互联网产品推出"先买后付"的体验式消费模式,彩妆行业同样闻风而动。迷你彩妆和彩妆组套都同比增长超过50%,各大品牌也纷纷推出迷你口红,"口红+"类型的彩妆套装产品。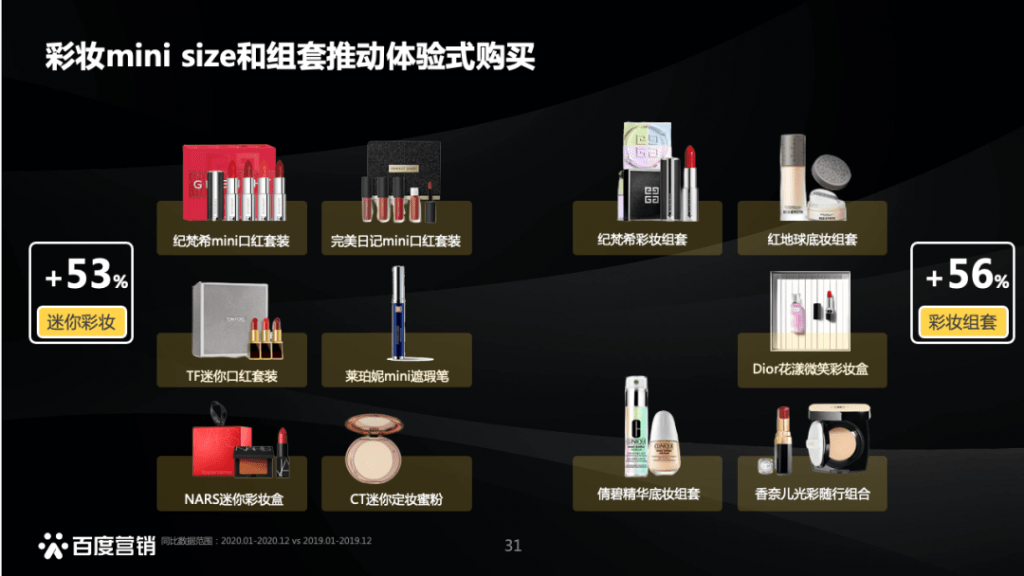 ○国潮(Fashion):
2020年见证了诸多国货美妆品牌的崛起:花西子、珂拉琪等品牌的品牌声量同比增长超200%;已经火遍大江南北的完美日记,检索量持续增长。除了品牌占据了用户的心智高地之外,各大品牌的明星产品同样获得了用户的大量关注。
我们将百度指数与品牌的营销活动进行关联度分析,以完美日记2020年全年的营销大事件为例,可以发现,用户会来百度进一步深入了解品牌的活动详情,尤其是在春节和双十一的关口,检索量会呈现爆发式增长。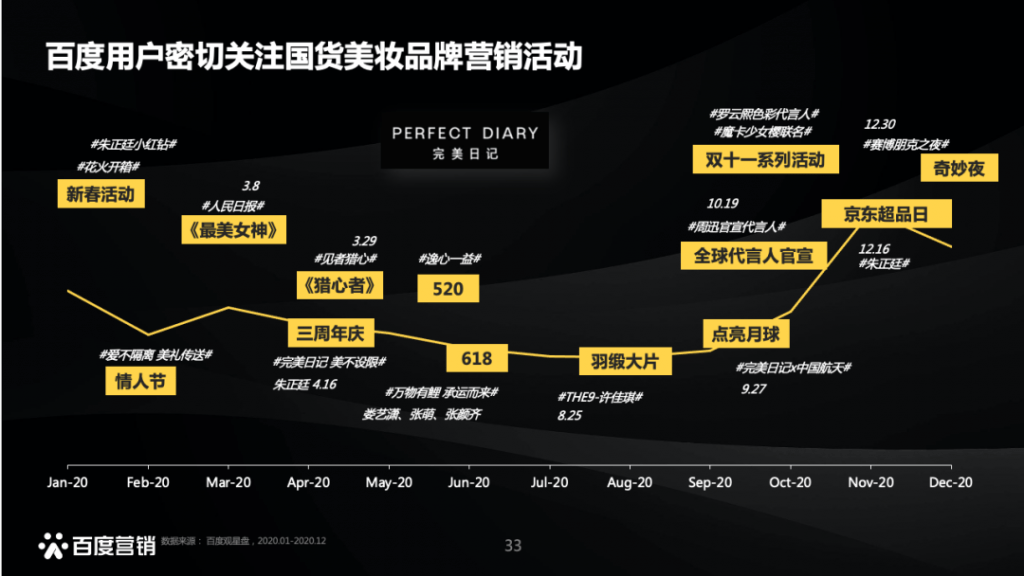 Makeup Looks:
Z世代
彩妆盒
国 潮
所谓永恒,就是接受变化。2020年是充满挑战和变革的一年,整个彩妆行业的品牌和产品也随着用户关注点的迁移而历经浮沉。让我们共同期待2021年,愿色彩可以不仅点亮你我的面容,更浸染入心间。