多乐士焕新服务是阿克苏诺贝尔涂料国际有限公司旗下的一站式墙面翻新服务品牌。
多乐士焕新服务于2008年推出,主要提供家中的墙面涂刷和木器涂刷服务:
帮助解决墙面问题,例如裂纹、掉皮、霉斑、污渍、涂鸦等
墙面焕色,提供色彩建议
背景墙、涂鸦墙等质感墙面涂刷服务
家具门窗等木器涂刷翻新
Dulux Refresh Service is a one-stop-for-all wall renovation service under the brand AkzoNobel Coatings International Ltd. Launched in 2008, Dulux Refresh Service provides wall painting and wood painting services for your home. - Help solve wall problems, such as cracks, peeling, mildew, stains, graffiti, etc. - Refresh old walls and provides colour suggestions - Textured wall painting services such as backdrops and graffiti walls - Renovation of furniture, doors and windows and other woodwork
 The "one-stop" service means that customers can enjoy a "one-stop" service. We provide you with more than just a professional consultant to conduct wall inspection -- we also recommend suitable wall paint products for you to better match your wall colors, provide professional masking protection before painting, furniture removal, wall treatment, paint construction, construction waste cleaning after painting, furniture return, overall cleaning and other painting related services.
Client Needs and Concerms
The client focused on acquiring qualified leads, and KPI assessment looks at total number of qualified lead acquired and lead cost
The client requested to optimize previous advertising strategy to get as many qualified leads as possible under the premise of lead cost control.
We helped optimize the client's existing Baidu advertising platform, combining Baidu performance-based products such as ocpc, leads generation, and with Baidu mini program as a landing page, to create a closed loop of marketing and improve retention rate.
In addition to Baidu search, we also added Baidu Feed Ads, Toutiao Search, Toutiao Feed Ads, Douyin Search, Douyin Feed Ads, Tencent Feed Ads, Red Search and other advertising platforms to expand horizontally and acquire more qualified leads.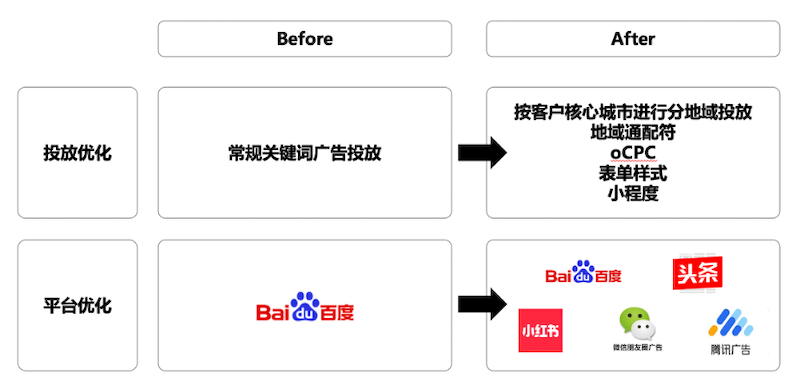 After optimization of the platform and advertising targeting, the KPI of Dulux Renewal Service was significantly improved - the total number of qualified leads increased by more than 500% compared to last year and the average lead cost decreased by 72.6%.